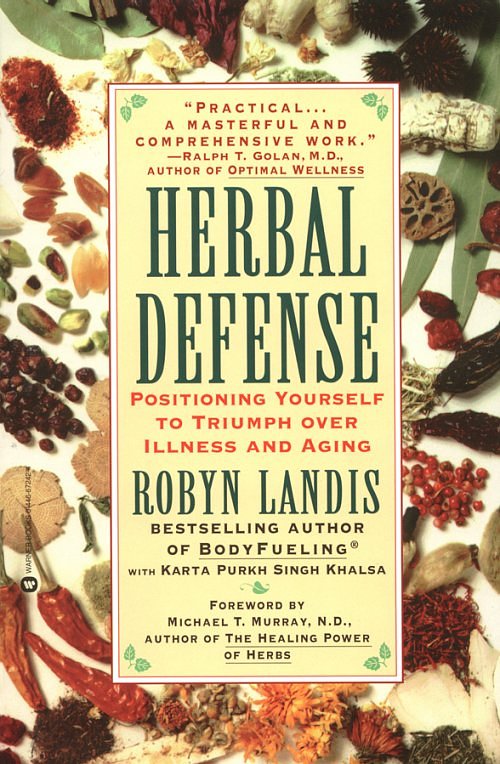 HERBAL DEFENSE makes the latest information on botanical medicine and natural healing interesting and useful. To give you power over your health, the book will show how to reduce risks, prevent disease, enhance energy, and naturally treat a variety of common ailments using herbs and foods. It explodes common myths about herbs, and includes inspirational case studies, a historical perspective on medicine, resources, recipes and more. It's packed with historical, traditional, scientific, and anecdotal information on over 350 herbs for home use.
Herbal Defense goes far beyond mainstream generalities (this isn't the same old endlessly recycled echinacea/ginseng/garlic tidbits). You'll become a powerful, discerning, sophisticated and self-sufficient consumer of health care. You'll learn to evaluate, obtain and use botanicals not only to remedy illness, but to prevent it and build outstanding health. Picking up where Robyn Landis' bestselling first book, BodyFueling®, left off, Herbal Defense will inspire you to choose a healthy life--and teach you how. Just a taste of what you will learn:

gentle yet reliable, results-producing strategies to support your body's own self-healing mechanisms.


how to help your body fight infection and degeneration on its own


how to boost your body's own healing, instead of depending on external sources for superficial relief.


how to use herbs and foods to build a future of health, and tip the odds against disease and degeneration in your favor.


how herbs can make the immune system stronger than many of its foes.


how to tell hype from helpful information, and distinguish issues that tend to get tangled (e.g., stimulants, "diet aids" and aphrodisiacs have nothing to do with responsible, educated, therapeutic/medicinal uses).
Bestselling fitness author Robyn Landis (BodyFueling®) and master herbalist Karta Purkh S. Khalsa inspire you and arm you with powerful tools that promote outstanding and radiant health. You'll learn how to:

supercharge your immune system-for triumph over colds, flu and other infections


prevent and soothe common childhood conditions--from colic to ear infections--without drugs


naturally relieve women's health concerns from PMS to hot flashes


help avoid as well as heal a host of respiratory and digestive problems


wipe out allergy symptoms--while you work to eliminate allergies forever


fight the degeneration usually associated with aging
...and MUCH more.
Fact-filled, comprehensive and thoroughly researched, HERBAL DEFENSE also features:

recipes


guidance on herb dosages, preparation and storage


information on practitioners, products, and other resources


news on diet and special healing foods


inspiring case studies


the truth behind common herb myths
...everything you need for complete HERBAL DEFENSE!
Every year there are ten million negative drug reactions in the U.S alone, and 600,000 victims wind up in hospitals. All around the rest of the world, people use herbs for health and healing, as they always have-and herbs account for less than 1 percent of all toxic reactions to medicines worldwide). So why not try the natural route? HERBAL DEFENSE will show you how gentle plant substances can help keep you stronger, healthier and more energetic than you dreamed possible--and truly heal illness and injury.
From age-old wisdom to late-breaking discoveries, HERBAL DEFENSE is packed with historical and scientific information on over 1,000 herbs for home use, giving you the control to steer your own health destiny. Use wisdom from around the world to help yourself-with solutions to problems such as:

VIRUSES. The mild Chinese herb astragalus is a remarkable cold preventive--and the spicy, aromatic cubeb berry not only builds immunity but relieves coughs, strengthens lung tissue, energizes and heals asthma long-term.


HEADACHE: Ginger, feverfew and rosemary are standout migraine relievers; peppermint oil dabbed on temples, scalp and neck can relieve tension headaches.


INSOMNIA: Valerian, hops, and scullcap leaf are just a few of the botanicals that can safely transport you to slumber--without risk of dependency.


FATIGUE: Fo-ti, licorice root and eleuthero are only a handful of the herbs that help restore your body's own energy production--with no overstimulation or side effects.


EAR INFECTIONS: Discover why a few drops of mullein oil, garlic oil or onion juice in the ear are usually more effective than antibiotics--not to mention healthier and cheaper.


HAY FEVER: Freeze-dried nettles offer quick and completely natural elimination of symptoms with no side effects. (Other herbs, used over time, can make your immune system too confident to overreact to pollen at all!)


ULCER: Forget toxic drugs that cause rebound effects and mask symptoms--cabbage juice and licorice root have proven far more effective.


ARTHRITIS: You don't have to "just live with it"--turmeric root, guggul, boswellia and ginger are among many natural remedies that relieve pain by healing the problem.


DIABETES: Learn why onions, fenugreek seed and bittermelon, among others, are excellent natural blood sugar control remedies!
Much more than a book of remedies,
HERBAL DEFENSE will help you:

Get beyond superficial "treatment" to true healing of illness and injury


Support your body's own regenerative mechanisms so it can fight infection and degeneration from within


Slash your risks for common diseases


Build outstanding health and discover what it really means to be well


Individualize your herb use with a depth of knowledge that surpasses mainstream generalities


Uproot nagging everyday aches, pains, discomforts and chronic conditions at their sources


Evaluate, obtain and use botanicals wisely


DISTINGUISH HYPE FROM HELPFUL INFORMATION

BECOME A POWERFUL, SOPHISTICATED AND SELF-SUFFICIENT
HEALTH CARE CONSUMER


"A fascinating, eminently practical guide to using herbs to stay healthy-or to regain health. A wonderful resource."
DR. NEAL BARNARD, M.D.
President, Physicians Committee for Responsible Medicine and Author of Eat Right, Live Longer

"A masterful and comprehensive work...Its scope is immense, yet its organization and friendly, personal style make the information extremely accessible and easy to apply."
DR. RALPH GOLAN, M.D.
Author of Optimal Wellness

"Extremely well-written and informative...I strongly urge you to read Herbal Defense."
DR. MICHAEL T. MURRAY, N.D.
Author of The Healing Power of Herbs

"Written by a recognized wellness author, with an accessible style and format, this book is sure to be in demand."
LIBRARY JOURNAL

How to get Herbal Defense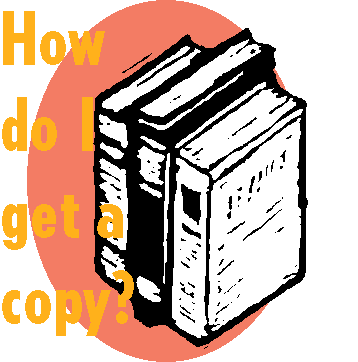 You can order Herbal Defense from our site's online bookstore, associated with Amazon.com! Or go directly to Amazon/Borders or Barnes&Noble. You can also order Robyn Landis' first book, BodyFueling®.
Herbal Defense is also available in major bookstores (such as Borders Books and Music, Barnes and Noble,Tower Books, etc.). Independent bookstores can order the book for you if they don't already carry it.
Another way to order is to call Warner Books directly. The Special Sales line is (800) 222-6747. Listen to the menu and select "single-copy sales."
Enjoy!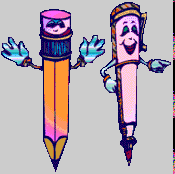 Robyn Landis and Karta Purkh Singh Khalsa are available to deliver lectures, workshops, seminars, keynotes, and trainings for your company, club, association, organization, school, or conference.
T o p i c s ~ i n c l u d e :

| | | |
| --- | --- | --- |
| Immune Boosting Herbs | All About Tonic Herbs | Ayurvedic Healing |
| Getting Started With Herbs | Herbal Healing for Women | Energizing Herbs |
| Cold and Flu Fighters | Herbs for Kids | AND MUCH MORE! |
(You can also request a custom class or lecture.)

Landis has been a speaker and trainer for numerous companies, organizations and athletic clubs; spoken at many conferences; and delivered her BodyFueling® workshop to thousands of people.

Khalsa has been an herbalist and educator for more than two decades and has taught thousands of classes and workshops on Western, Chinese, European and Native American herbs.

(For more about the authors click Here.)
To arrange a speaking engagement or class: (see below)

E-mail your request to Robyn Landis.

Please include:

name of company, organization or conference

size of group

desired date(s) of event(s)

Upon receipt of your request, you will receive e-mail outlining fees, terms, conditions and schedule.

Fees depend on the length of the class speaking engagement.




Herbal Defense co-author recently founded the Washington Herbalists Association
to promote a certification process for herbalists.

Click HERE to see how you can help herbal medicine and its practitioners.






Home » What Is BodyFueling? » Herbal Defense » BodyfuelingExcerpts » Herbal Defense Excerpts » Praise for Herbal Defense
News/Info/Tips/Tools » Bookstore » Eco-Shopping » Links » Reader Mail » Reviews » Questions & Answers » Recipes » Food Brands
Articles » BodyFueling® Workshop Testimonials » BodyFueling® Reader Comments » Workshops/Consultations » About The Authors